Teaching City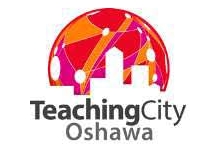 TeachingCity brings together the City of Oshawa and its education and research partners - the Canadian Urban Institute, Durham College, Ontario Tech University, Trent University Durham Greater Toronto Area and the University of Toronto's Faculty of Applied Science & Engineering. Partners address Oshawa's urban issues through innovation, collaboration, applied research and shared experiential learning opportunities.
See Ontario Tech's project collaborations below!
Age Friendly Competency Game
Project timeline: May 2020-May2021
In partnership with Lynda Lawson (Innovation and Transformation Branch, City of Oshawa) and Celeste Adams (Oshawa Seniors Citizen Centre), Adam Dubrowski (Ontario Tech Faculty of Health Sciences) and several students under his direction (including a graduate student, Pamela Mutombo are working to create an innovative tool to teach, train and test competencies to enhance age-friendly communities.  
A training tool will be utilized across the City workforce in order to train front line staff to be more inclusive of the aging population. Further exploration on additional usage is also under development and will hopefully progress into another project that builds on the current project framework.
For more information on this project,  contact Adam.Dubrowski@ontariotechu.ca.
Check back soon for project outcomes and results!
Fire Navigation Systems
Project timeline: May 2018-December 2020
Ontario Tech's Carlos Rossa (Faculty of Engineering and Applied Science) and many different student groups over the past 2 years partnered with the City of Oshawa's Fire Services branch to develop a tactile feedback navigation system for structural firefighters in hazardous environments using simultaneous localization and mapping. 
This project offers opportunities for the use of these technologies created by the students and Faculty to improve efficiency of firefighter interventions across the City of Oshawa's Fire Services branch. Visibility and navigation are major challenges in structural firefighting. In a typical fire scene, rescuers work in low visibility conditions due to smoke, dust or darkness. This project will map the environment in which the firefighter has entered through sensors and send them to a system monitored in the truck outside, allowing communication for the firefighter. Vibrations on the firefighter's arms will alert and direct them towards the exit in the safest way possible (leading them left or right, etc).
For more information on this project,  contact carlos.rossa@ontariotechu.ca or visit the lab:ca https://biomechatronics.ca 
Reanimating Oshawa's Downtown
Project timeline:  October 2020-April 2021
In collaboration with the City of Oshawa's Julie MacIsaac (Director, Innovation and Transformation), Kyle Benham (Director of Economic Development Services), Laraib Arshad (Economic Development), and Susan Lupton (Downtown Oshawa and Business Development Manager), Ontario Tech's Brilliant Catalyst (under Brilliant Solutions) and 6 students were tasked with:
Conducting research on best practices that cities are following on a regional, provincial and national scale here in Canada and internationally
Engaging identified stakeholders to get qualitative feedback that will provide a richer context and foundation for possible recommendations.
Identifying options and creating recommendations for a presentation to City staff that will inform the possible development of future economic recovery plans, actions, policies and projects.
The City is working towards the implementation of these ideas.
For more information on this project,  contact the Brilliant Catalyst team