Applying for Funding
Steps for submitting a research funding application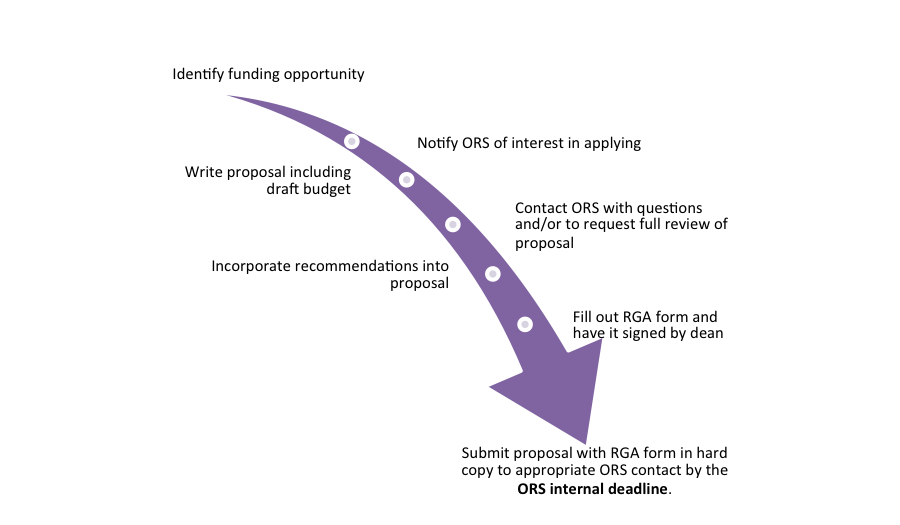 Submission timelines: external research grant applications
The chart below provides the submission timelines for grants and programs offered via the Social Sciences and Humanities Research Council (SSHRC), Natural Sciences and Engineering Research Council (NSERC) and Canadian Institutes of Health Research (CIHR).
Submission deadlines and ORS services
Six weeks prior to competition deadline
Comprehensive review―submit a draft of your application for in-depth review and feedback by us or a consultant, if available. The draft should include the research proposal and budget.
Ten working days prior to competition deadline
Administrative review―submit the entire application for a review. We will provide brief comments on the completeness of the application and highlight any necessary changes to meet agency application requirements.
Mandatory submission deadline
Three working days prior to competition deadline

Compliance review―at this stage, we will only identify necessary components that are absent from the application. No comments will be provided on the quality or content of the application.

Required components:

Submit a copy of the entire application package for final compliance review and institutional signatures/approvals.
For electronic submissions, including for Tri-Agency programs, the complete application must be uploaded and submitted to ORS through the agency's online system three working days prior to the competition deadline.
Include an RGA form bearing the Dean's signature.