Discover Research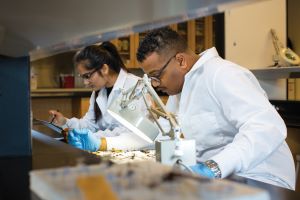 With a commitment to making a positive contribution to economic growth and development—locally and provincially—at the heart of our research endeavours, we are proud to be involved in meaningful projects that truly improve lives and change communities—in Durham Region, Northumberland County and far beyond.
We have made great strides in solidifying our reputation for research excellence. Our student and faculty researchers continue to gain recognition for their technology-driven innovations, and our team seeks answers to big questions that lead to transformative cultural, economic and scientific changes worldwide.
We support an interdisciplinary approach to solving today's challenges by integrating research, innovation and entrepreneurship with education and professional collaboration. This approach enables well-rounded academics to discover solutions that will lead to significant changes that support the health and humanity of our world, and inspire the next generation of researchers to do the same.
Our work is just beginning, and we hope you will join us on this journey. Discover the impact we are making and learn how you can become involved and work alongside our incredible team to constructively contribute to our communities, our nation
and
our world.