Partnerships
We  believe successful partnerships require shared vision and values, which become the cornerstone for the development of innovative and transformative research projects. We value our partnerships and continue to seek opportunities for the ongoing growth and development of these relationships while fostering new ones.
Working with us will enable you to:
Address your direct challenges and improve your overall business practices and strategies.
Determine cost-efficiency strategies.
Achieve greater capacity and project scope.
Maximize talent to help enhance your productivity and meet your objectives.
Access top talent, including both undergraduate and graduate students, adding significant value to your research team.
Partnering with us, you will have access to:
Academic and research expertise (Find an Expert)
Government funding programs
Who can help?
Interested in finding a research partner?
Aisha Greene, Manager of Research Partnerships and Innovation and Graham Sue, Research Partnerships Officer will help you engage and partner with Ontario Tech.
| | |
| --- | --- |
| Contact Aisha | If you are interested in collaborating with the Faculty of Energy Systems and Nuclear Science, Faculty of Education or Faculty of Health Science. |
| Contact Graham | If you are interested in collaborating with the Faculty of Engineering and Applied Science, Faculty of Applied Science, Faculty of Business and IT of Faculty of Social Science and Humanities. |
Interested in experiential learning and community engagement?
Find out more about our Partnerships Team!
"Snapshot" Fiscal year 2019/2020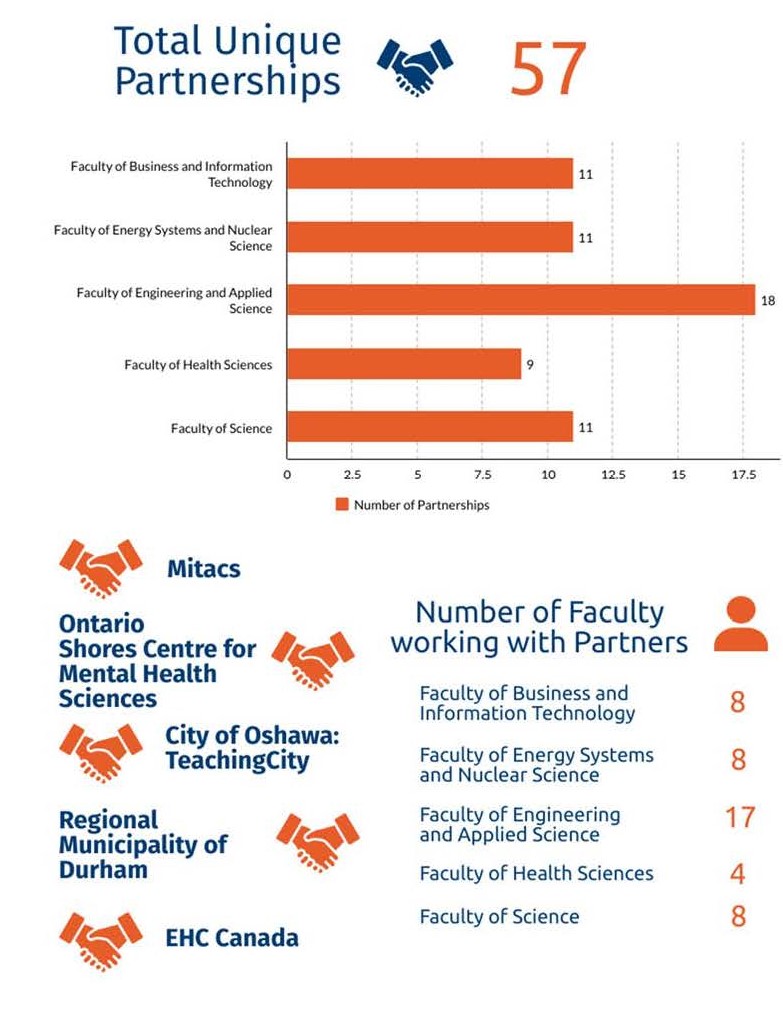 Have a Business Challenge? We can help!
Our faculty members and students want to immerse themselves in your organization and work together to co-create solutions for the betterment of your business and our community. Some of our partners include: