How do I submit or resubmit an application?
To submit or resubmit your application, select the Submit button from the top of the application form window (see Figure 1). You will then be required to provide a work flow message before submitting (see Figure 2). For a new application, a simple message such as New application is adequate. For an edited application, type a few words to describe what you changed. It is best to keep your message simple, with just enough information to remind you of why the application was submitted or re-submitted as this message becomes available to you via the workflow log.
Figure 1: Submitting an application

Figure 2: Submission work flow message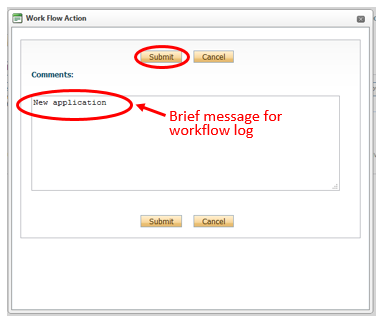 Once you submit your application, you can no longer make changes, but you do have read access to the application. It will be located in the Applications (Submitted - Under Review) link on the IRIS home page. If you need to edit your application, you will need to contact the Ethics and Compliance Officer. Visit the IRIS support web page for contact information.
The following pages may also be of interest to you:
How do I navigate the IRIS home page? (coming soon!)
How do I view the project and workflow logs? (coming soon!)